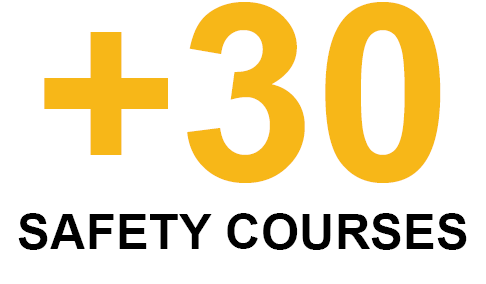 Made Safe offers more than 30 courses, tailored for manufacturer needs. Most courses are offered at no additional charge. Browse the full list of courses, including certification requirements in our SERVICE GUIDE
We understand your business and have developed training in three, convenient formats:
Online
In person classroom (regional)
In person classroom (site specific)
---
Online
Our online programs strike a balance between facilitated, live, peer-engaged learning with our powerful online learning management platform. Online delivery combines the best of both worlds, limiting time off site and maximizing flexibility while minimizing schedule disruptions.
"Made Safe online training is a valuable and affordable learning experience with comprehensive approach and vide variety of topics covered. Their staff are very knowledgeable in their training materials as well as online communication tools. They are also extremely motivated in providing their training to as many members of manufacturing community as they can."
– Anna Boitsova, Safety and Operations Coordinator, AGI VIS
In person classroom (regional)
Learning in real-time with expert facilitation and peers from manufacturing organizations across the province enhances retention, allows employees to develop powerful networks and maximizes best practice sharing.
"Made Safe excels in providing a positive training atmosphere, which allows for great networking opportunities. Once our contact was established, we started using Made Safe services for a variety of training needs including our Safety Committee training. Our employees had a very positive feedback after attending the Made Safe training in person. We were even able to have Made Safe trainers deliver training at our facility, which made things much easier for us."
– Anton Voronin, Safety and Environmental Supervisor, Winpak
In person classroom (site specific)
Learning in real-time with expert facilitation in a single onsite location allows employees to develop break down silos and maximizes best practice sharing across teams and departments.*
"We had the experts from Made Safe facilitate a Racking Storage & Inspection session onsite at our facility. The feedback I received was very positive and everyone who participated in the training had a very good experience and practical takeaways. It was a great chance to bring employees from different departments together to talk safety and learn from one another. It was incredibly convenient and the networking between employees was as valuable as the subject matter itself."
– Wayne Brylikowski, Safety & Health Manager, Monarch Industries
*To request a site-specific course, just complete the Made Safe training request form and email a copy to info@madesafe.ca. An advisor will be in touch to confirm pricing and determine scheduling.
Made Safe provides training designed for the unique needs of the Manitoba manufacturing workplace. Click through to register online today via our comprehensive COURSE PORTAL.