Women's History Month 2023
Women's History Month 2023
Posted on March 28, 2023
By: Melanie Zukowski, Safety Trainer
As we wrap up Women's History Month, we thought it would be fitting to honour the women in manufacturing right here in Canada.
Many people are familiar with 'Rosie the Riveter' and her iconic image rallying women to work in US manufacturing facilities to aid the war efforts during the second World War, but did you know that it was a Canadian idea first?
Veronica Foster, who worked for John Inglis Co. assembling Bren light machine guns in Toronto, was the model for the national poster campaign behind the effort to employ women in factory roles. 'Ronnie the Bren Gun Girl' became a Canadian icon, representing women in the manufacturing industry. All told, around 373,000 women worked in manufacturing roles during the second World War, largely in the munitions industry.
From Stephanie Kwolek, who discovered Kevlar, to Elsie MacGill, Canada's "Queen of the Hurricanes" (the Hawker Hurricane Fighter Plane, WWII), women have long since played a key role in manufacturing, shaping our history and changing the world.
Today in Canada, women account for 48 per cent of the population, however they only make up 29 per cent of the manufacturing workforce – a number that hasn't shifted for more than 30 years. One reason for this continuing disparity relates to the feeling that women don't belong in a field geared toward men, and the fit and function of personal protective equipment (PPE) feeds that ongoing issue.
I began my career in 1999 as a volunteer firefighter in a small village on Prince Edward Island's beautiful North Shore. As a young woman in a male-dominated environment, coupled with the budgetary constraints often found in a rural department, properly fitted turnout gear was a consistent challenge during my six-year tenure. Self-Contained Breathing Apparatus (SCBA) masks designed to fit a larger proportioned face created safety issues in hazardous environments, and wearing gloves intended for a broader hand resulted in decreased dexterity, creating risk when they are removed. Finally, boots intended for the wider diameter of men's feet left too much room for a narrower foot to move in, creating instability, lack of support and increased risk for chafing, blisters and musculoskeletal injuries. An interview published in NFPA Journal in 2021 indicates female firefighters are still facing this challenge.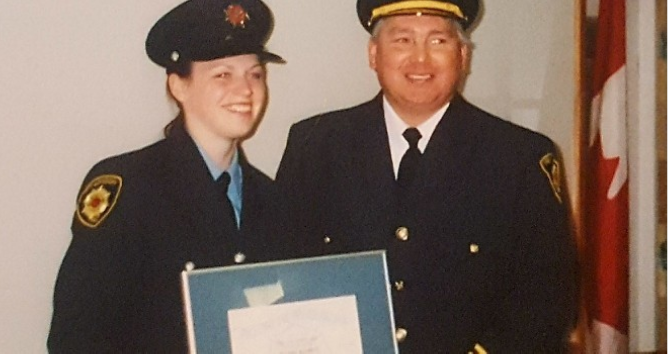 CSA Group released their research report "Canadian Women's Experiences with Personal Protective Equipment in the Workplace" in November 2022. 50 per cent of Canadian women reported their PPE did not fit properly, 43 per cent reported it is uncomfortable to wear, and 35 per cent reported the selection of women-specific PPE is inadequate. To address these issues, women either pay out of pocket for their own PPE, or modify their existing PPE using rubber bands, duct tape, or other methods to secure gloves or shorten sleeves and pant legs. Additionally, nearly 40 per cent of women reported an injury or incident which they perceived to be related to their PPE.
The good news is that change is sweeping the nation! This issue has been the focus of discussion in forums, research, and workplaces, with more options for gender-specific PPE cropping up. The Ontario government has taken the next step, proposing amendments to the Construction Projects Regulation to require PPE and clothing properly fitted to women and workers with diverse body types, which if approved will come into effect in July of 2023.
As employers strive to outfit workers to do their jobs well and safely, women can be supported in the workforce by ensuring that gender-specific PPE options are made available, while keeping in mind that PPE needs to fit different shapes, as well as sizes.
From hard hats to safety boots, there are a variety of options and sizes to choose from to make sure workers are wearing the proper equipment to do their jobs safely & comfortably, so they can continue to be a valued and valuable member of the workforce for years to come. If you would like assistance in connecting with resources to supply your workforce with personal protective equipment that fits each individual worker properly, contact Made Safe today.
For further reading, check out the CSA's "Canadian Women's Experiences with Personal Protective Equipment in the Workplace".
Or, check out CME's Women in Manufacturing page for resources and success stories of women in industry.