Elmer's Manufacturing Achieves SAFE Work Certification by Made Safe
Elmer's Manufacturing Achieves SAFE Work Certification by Made Safe
Posted on March 7, 2023
As the manufacturing sector partner for SAFE Work Manitoba Certified, Made Safe works with members to assess their readiness, provide support and help companies achieve certification. The process is modeled on internationally-recognized best practices and has demonstrated positive outcomes for individual companies and the industry overall. Certified manufacturers have safer and healthier workplaces, better control of workplace hazards, fewer injuries and illnesses, more engaged and productive employees, and a significant rebate on their WCB premiums.
As the SAFE Work Certified by Made Safe continues to provide the province with top tiered safety programming, we wanted to showcase just a few of the manufacturers who have taken part. It's our hope that telling their stories and sharing the lessons they learned during the certification process will help pave the path for other manufacturers moving forward.
ELMER'S MANUFACTURING LTD.
Elmer's Manufacturing Ltd. started as a small farm business in 1978 and has grown from a handful of staff and building row crop cultivators to 190 full time employees (and growing!) and an extensive and diversified group of equipment lines for any size farming operation.
In the late 2000s, Elmer's began producing the Haulmaster grain carts and the revolutionary Super 7 Harrow, later adding the Wolverine Ditcher, Ravage Bale Processor. In 2019 Elmer's was devastated by a fire at the plant, which resulted in a total loss of our assembly and paint building. Since then, Elmer's has started and completed two expansions resulting in 60,000 sq ft of production space to meet the continually growing needs in Canada, plus increasing exports to the US, Australia, and South Africa.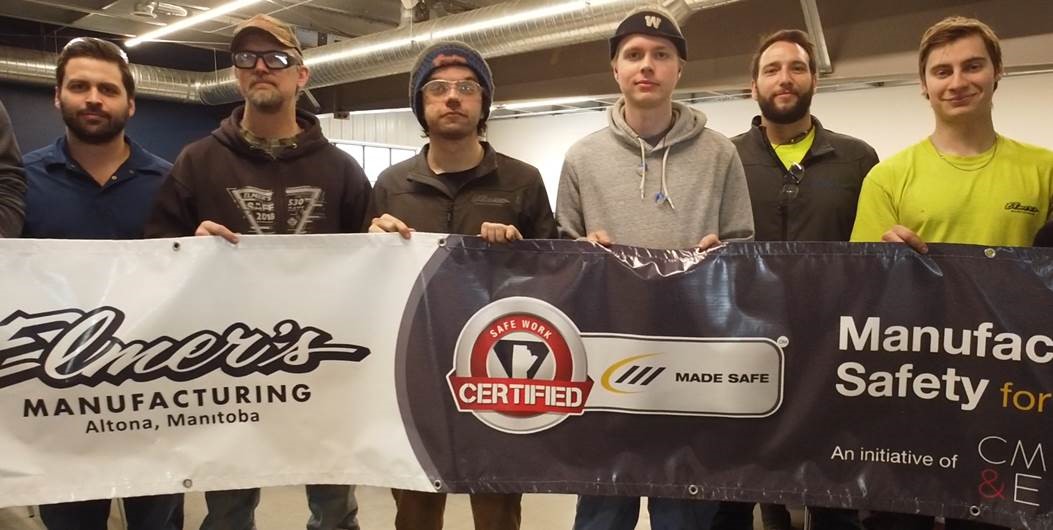 Q: What should readers of this blog post know about your company vision and culture?
Elmer's Manufacturing is on a mission to design, manufacture, and support high-quality, innovative agricultural equipment focusing on the needs of progressive farmers. Our vision is to provide innovative agricultural equipment and solutions to maximize farming potential and help feed the world.
Elmer's culture is founded on its eight core values: Safety, Innovation, Integrity, Excellence, Customer Focus, Employees, Teamwork, and Relationships. Elmer's continues to build a safe, learning environment, with a focus on continuous improvement and leadership development.
Q: Were there any concerns you had to overcome before making the commitment to certification?
Elmer's started off as a farm first and grew into the manufacturing facility seen today. As you can imagine, safety on a farm in 1978 was seen and valued much differently than in manufacturing today. Over the past 45 years, the safety management system has been continually evolving and was thoroughly audited and overhauled in 2020, when Elmer's began working toward the SAFE Work Certification. Elmer's was proud to receive the SAFE Work Certification in November of 2022 and is now maintaining that safety management system.
Q: Did you learn any safety or business lessons throughout the process that might help others make the decision to become certified?
It can be a daunting and intimidating when starting off. I know for me it was tough to know where to begin. CME and Made Safe were able to answer all my questions and provide training and resources that helped guide me through the entire process.
Q: What would you say is the biggest benefit of certification so far (or that you can see on the horizon)?
Completing the certification process has helped Elmer's Manufacturing become a safer and healthier workplace with a better control of our workplace hazards. Elmer's was already a great place to work, but I feel like by achieving certification, we've put our money where our mouth is regarding safety, which has a big impact for employee buy-in, too. We look forward to having improved employee engagement regarding safety while improving our productivity and manufacturing processes at the same time.