10 tips to build an effective safe work procedure
10 tips to build an effective safe work procedure
Posted on June 1, 2017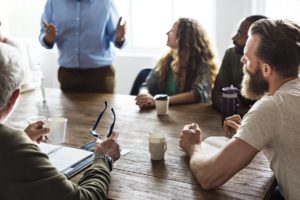 By Steve Hnatishin, Safety Trainer
A safe work procedure is a step-by-step guide to the actions required to complete a specific task safely. Any company, and manufacturers in particular, needs safe work procedures for the tasks completed at the worksite to ensure that employees are completing their jobs in a safe, standardized way.
Asking employees to perform the same task the same way (and safely) has many benefits. From standardizing work to reduce errors and lower costs; ensuring cross-training and spreading task-specific knowledge across an organization (especially helpful where turnover or succession planning is a concern) and developing safe processes that can be repeated as required; the return on investment of safe work procedures is immeasurable.
But when a company expects employees to perform work a certain way, the employees must be trained on the safe work procedures. Here are ten tips to help you set up safe work procedures that work!
1) Have the right team
Make sure you have a comprehensive team that includes the workers doing the job, an area supervisor, committee member, possible safety personnel and specialized personnel where required.
2) Train the employees
Train the team members that will be involved. Job hazard analysis, risk assessments and safe work procedures require training in order for them to be used effectively.
3) Watch the work being done
You cannot develop an effective safe work procedure without watching the actual work being done. If it's for a new job or task, go to where the work will be done and walk through the steps.
4) Start with a detailed job hazard analysis
Make sure you cover every step of the task or job. Remember to consider all hazards including physical, chemical, biological, ergonomic and psycho-social.
5) Assess the risk involved
For each hazard the risk must be evaluated. Use a risk matrix to rate each hazard to figure out which hazards are low risk and which hazards are high risk.
6) Ensure the hazard controls bring you to a risk that is A.L.A.R.P. (as low as reasonably possible)
The company must decide what risk is acceptable at the workplace. The hazards must be controlled in a way that the residual or leftover risk is at an acceptable level.
7) Write the safe work procedure
Using the information that you gathered by completing a job hazard analysis and risk assessment, complete the safe work procedure (SWP). Don't forget to list the names of the team members that created the SWP.
8) Train the safe work procedure
Once the safe work procedure is complete, any employees that are affected by it must be trained on the new or updated version. Remember to document all training whether general or site specific!
9) Follow up, follow up, & follow up
Always go back and check to make sure that the safe work procedure is still effective once it is implemented into the workplace. Despite best efforts, there may be unforeseen factors to account for.
10) The safe work procedure never ends
The safe work procedure should be a living, breathing document. Anytime there is room for improvement, new ideas or if there are changes to the work or environment; review the safe work procedure.
Need support on safe work procedures or other safety concerns or opportunities? The experts at Made Safe are here to help. Call or email us anytime!
*The Made Safe course Risk Assessment Job Hazard Analysis & Safe Work Procedures was used a reference for this article.