6 things you need to know about joint health and safety committees in manufacturing
6 things you need to know about joint health and safety committees in manufacturing
Posted on March 14, 2017
By C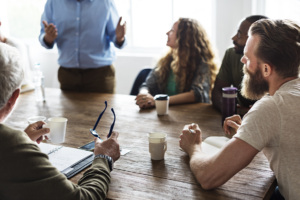 ory Sander, Made Safe Trainer
To help implement the right to participate, Manitoba legislation requires every employer with twenty or more workers to set up a joint worker/employer workplace health committee (WSHC). As a Made Safe trainer, I often hear from manufacturers that the practices around setting up and maintaining joint health and safety committees can be overwhelming. Here are six things you need to know to get started, and keep your committee running smoothly.
1. The size of the committee depends on size of your company
A committee has from four to twelve members. If your company employs fewer than 20 people, you may be exempt from the legislated requirements but it's still a good idea to set up a committee for many reasons, which I'll outline below. In a perfect world, your committee will have an even number of participants so both employees and management have equal say.
2. Both workers and employers have equal say on the committee makeup
Your committee should have two co-chairs – one selected by the employer and one selected by the workers. The worker co-chair selects at least half of the committee membership, while employer (or employer co-chair) appoints the rest.
3. Effective committees are proven to reduce injuries
First, it's important to know that both co-chairs have the same powers and responsibilities. Together, employers and workers identify, appraise and determine safety and health concerns inside the workplace and address them through formalized policies and procedures. When employers and workers come together, accidents and injuries are reduced.
4. The right format and schedule can dramatically impact attendance
You're busy – I know. Work is hopping and there's not a lot of time for meetings. But companies who go above the minimum legislated meeting requirements (once quarterly) and meet more regularly are more engaged and effective. The importance of communication is crucial for a committee to ensure that all voices are heard throughout a company, from front-line workers to upper management, and regular meetings help. When employees feel like their voices are heard, engagement goes up and committee participation increases naturally.
5. Culture and training are key
There are two critical elements that must be in place for a WHSC to be effective: First, buy-in from both management and employees is paramount. The exchange of information on both sides require a voice, but you must also listen. The whole idea of the committee is to make sure that safety is being represented to protect and provide stability in the workplace. This reflects on productivity as a result of fewer injuries and lost time. Second, while committee co-chairs to have the most responsibility, every committee member must receive the information they need to play their role, and the training to do it well.
6. Tailoring the "why" to individual employees improves participation
While you can assign committee members, it's better to actively encourage participation from different levels and areas of the organization. Ensuring a broad representation is the best way to ensure everyone's voice is heard. Some workers may be attracted by the professional development opportunities their participation affords. Others might be motivated by the chance to provide valued input into policies, procedures and changes that directly affect their jobs or their departments. And still others might be interested in making a difference not only for themselves but for the wellbeing of everyone in the workplace – safety saves lives. By providing clarity in your communications (i.e. time commitment, training to be provided, clear expectations on roles and responsibilities), you may find you can remove the barriers that prevent some employees from raising their hands.
Next steps
Not sure what to do next? Still struggling or have questions? Our resources, designed for manufacturers, by manufacturers are delivered by experts with relevant industry experience. Better yet, most resources are included with your membership and available at little or no extra charge. Contact the experts at Made Safe today!