Beware the tiger: an evolution of safety
Beware the tiger: an evolution of safety
Posted on February 2, 2017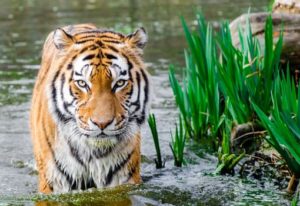 By Gib Perkin, Safety Trainer
Safety rules are a nuisance. They restrict us from doing what we want to do when we want to do it. You would think the person who wrote safety rules must have been an old fuddy-duddy who couldn't stand to see people having fun. Such is not the case. The unfortunate truth is that today's safety rules stem from a tragic, and avoidable history of preventable workplace injuries and even deaths.
Imagine safety rules in the ice age.
Rules that developed before people could read, or write. Before early man began to use tools. You could even argue that safety rules caused people to start thinking in the first place.
Thousands of years ago; people began to notice that a beast with the huge teeth and yellow stripes was eating members of their tribe. Then they had a thought (maybe their first thought): BEWARE THE TIGER!
The first safety alarms could have been as simple as a screech or a yell to let others know there was a tiger in the area. The alarms may have been annoying, but people began to notice that tigers were eating fewer of their friends. The safety measures probably became more sophisticated over time. A member of the tribe might have been stationed as a lookout – a prehistoric version of today's safety advisor!
A tragedy of time
The heart-breaking thing about safety rules is that they were slow to develop. People had to be eaten by the tiger before safety rules were made; and more people died before the rules became good enough to protect everyone.
Imagine how much nicer it would have been if the inventor of the grinding wheel had also made a sign at the same time and hung it over the machine saying "Wear goggles but not gloves when operating this machine." Think of all the injuries and fatalities that happened between the invention of the grinding wheel and the hanging of the first "annoying" sign above it.
The moral of the story
Don't let safety be an outcome. Think proactively and preventatively. Who knows – you just may save a life. Beware of tigers – literal and figurative.